LTO Roadmap extended to Generation 14.
Posted on September 27th, 2023
The LTO Program's latest technology roadmap details specifications for up to fourteen generations of tape technology.
The LTO Program first released its LTO Ultrium standard in 2000 with a capacity of 200 GB per cartridge compressed. Two decades later, the LTO Program released LTO generation 9, which supports tape cartridge storage compressed capacity of up to 45 TB* and tape drive data transfer rates of up to 1,000 MB/second*. At less than £0.01 per gigabyte, LTO has established itself as the storage medium of choice for long-term data archiving both on-premises and in the cloud.
"According to IDC data, the magnetic tape market grew at robust 10.5% in 2021, driven by the needs to defend against ransomware, store large volumes of data at low-cost, as well as data centers pivoting to 'green' technologies," said Phil Goodwin, Research Vice President, IDC. "Moreover, data volumes continue to double every two to three years. Multi-petabyte implementations have become commonplace. This LTO roadmap, out to Generation 14 with more than 1 PB of compressed capacity per cartridge, illustrates how LTO technology will continue advancing to meet organizations' large capacity storage needs for years to come."
The record-breaking LTO media capacity shipments of 2021 highlight how LTO tape has seen renewed adoption and interest among organizations due to its many attributes, including: the air-gapped protection it offers against ransomware, the benefits it brings to organizations' Environmental, Sustainability and Governance (ESG) initiatives, and its reliability and low cost as compared with other data storage options.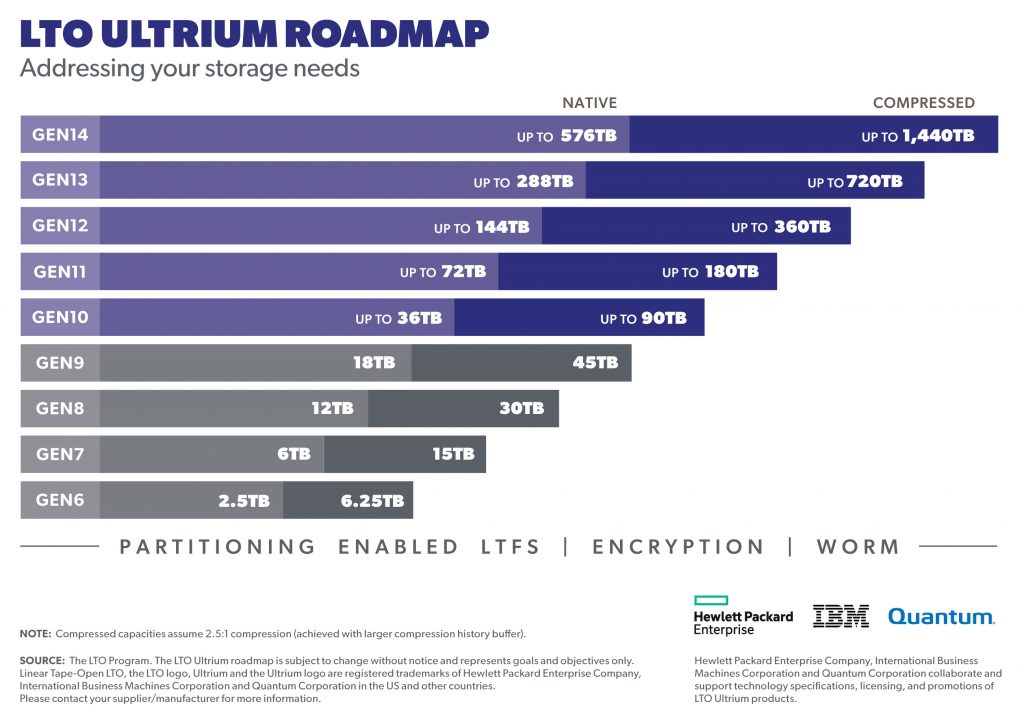 Tags: LTO generation 14, LTO Road map | Posted in LTO Roadmap | No Comments »