Other World Computing
Posted on December 11th, 2014
The PCIe SSD drive built for the most demanding needs of video editing and creative professionals.
Boot, Launch, Create, and Save Faster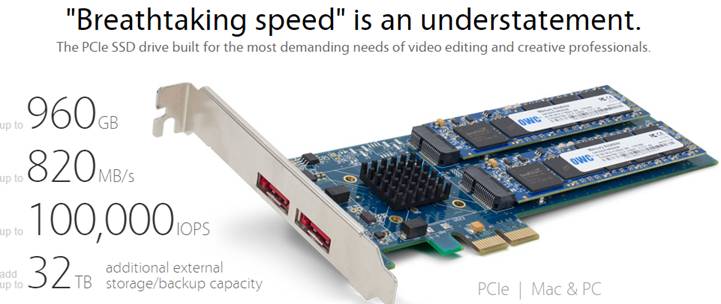 With its simultaneous internal and external storage performance, the Mercury Accelsior_E2 offers the best combination of speed, capacity, and connectivity available today.
Stop waiting for I/O-intensive apps like Photoshop, Final Cut Pro, or Avid Pro Tools to render, capture or process. Start working faster with near instantaneous boots and app launches. And save your work faster than ever before.
The Accelsior_E2 utilizes the PCIe slot (the fastest data interface available) in Mac Pros and PC towers to deliver blistering performance up to 820MB/s in PCs and up to 688MB/s in Mac Pro. That's over 2x faster than a SSD equipped Mac Pro 3Gb/s drive bay, and even faster than 6Gb/s drive speeds.
Boost Server and Gaming Data Speeds
In addition to video-editing and multimedia creation / management deployment, the Accelsior_E2 takes servers and gaming to entirely new levels of performance with it's extreme data speeds.
With up to 100,000 IOPS, business-critical applications like online transaction processing databases are given an instant boost. For gamers, Accelsior_E2's speed dramatically reduces game level-loading, object streaming, and save times for more playing and less waiting.
 Efficient, Reliable, and Upgradeable SSD Blades
Accelsior_E2's SandForce Driven SSD blades provide a more responsive and productive computing experience with cooler, quieter, and more energy efficient operation compared to standard hard drives. SandForce RAISE technology provides RAID-like data redundancy protection and reliability.
And with the future introduction of higher capacity Mercury Accelsior SSD blades, you'll be able to meet expanding storage needs while extending the useful life of your investment.
Expansion Chassis 
By using an OWC Expansion Chassis you are able to use these PCIe cards in any Thunderbolt machine (Mac or PC). Perfect for today's video capturing, video editing, media transcoding, audio processing, ultra-fast networking, data storage, and more via its Thunderbolt interface.
---
Test results :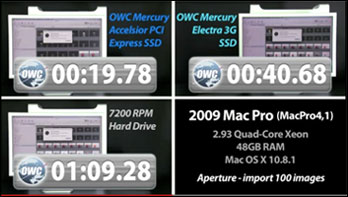 A performance shootout was held between an OWC Mercury Accelsior, OWC Electra 3G SSD, and a 7200RPM hard drive   in a Mac Pro processing 100 image in Apple Aperature.
  The end times tell it all.
Please enquire for more details. Contact us via 02380 736500 or email andy@imagestore.co.uk
Posted in Data Storage | No Comments »