Server and Backup (RAID with LTO)
Posted on March 8th, 2017
Thunderbolt RAID and LTO-7 Tape Archiving Solution for Digital Workflows
Finally a simple all-in-one solution for your digital workflow.
1. Copy your camera cards / data to the high speed RAID
2. Edit your data stored on the 6x 2.5″ HDDs or SSDs
3. Archive your raw data and finished projects to LTO tape.
That's it. You have moved your data from all the small SD cards etc over to a server for post production and editing and have safeguarded your data for the long term. Now you can move on with peace of mind onto the next project.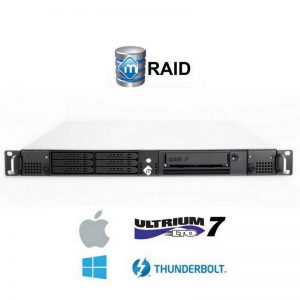 ■ 1U rack mountable storage and archiving solution
■ Supports up to six 2.5″ hard drives or SSDs (add your own drives)
■ Hardware RAID 0,1,5,6,10, 50 or JBOD operation
■ Integrated LTO-7 tape drive – 6TB of storage per tape cartridge, up to 300 MB/second data transfer rate
■ Four Thunderbolt 2 ports (dual Thunderbolt 2 buses)
■ Ideal for mounting in standard 19″ racks or DIT carts
■ Mac OSX and Windows compatible
■ Ships with 6-bay drive enclosure, IBM LTO-7 tape drive,  LT0-7 data cartridge, Universal Cleaning Cartridge and two Thunderbolt cables
RAID & LTO-7. The Perfect Combo.
mRack DIT LTO-7 is a 1U rack mountable hybrid RAID and LTO-7 tape archiving solution designed to support today's digital workflows.  Copy camera cards to high-speed RAID for online editing and then archive the raw footage and completed projects to
LTO-7 tape to safeguard the media for the long term.
mRack DIT LTO-7 features four Thunderbolt 2 ports and connects to any Thunderbolt equipped Mac or PC.  Add up to six spinning or solid state drives for integrated hardware RAID functionality.  Archive assets to the on-board LTO-7 drive which provides 6TB of data storage per cartridge.  LTO has a shelf life of 30+ years and is the most cost-effective storage medium on a cost per TB basis.
mRack DIT LTO-7 supports the Linear Tape File System (LTFS).  LTFS mounts the LTO-7 tape drive in the same way as a disk drive.  This enables drag and drop functionality to the LTO tape cartridge.
mRack DIT LTO-7 is compatible with industry leading LTO archiving and media management software for macOS and Windows including Yoyotta
Simple GUI. High-Speed Hardware RAID.
Add six of your favorite hard drives or SSDs.  mRack DIT supports drives up to 9.5mm in height.  Setting up a RAID set is easy using the included utility.
The dedicated RAID-on-Chip processor and onboard 512MB of DDR3 cache memory offloads RAID processing from the host system, ensuring stable and high-performance data transfers.
Interface
4x Thunderbolt 2 ports, dual independent
Thunderbolt buses
Hardware RAID
Supports up to six 2.5″ HDD/SSD (up to 9.5mm height)
RAID 0,1,5,6,10,50 or JBOD operation
Tape Drive
 IBM LTO-7, LTFS Compatible
System Requirements
Mac or Windows PC with Thunderbolt port
For systems with Thunderbolt 3, an adapter is required:
Mac Adapter | PC Adapter
Compatible backup/archive software
Size
19 x 16.5 x 1.75″/ 48.3 x 41.9 x 4.45 cm
Weight
16 lb / 7.25 kg
What's in the Box?
1U rack mountable enclosure with LTO-7 drive
Hardware RAID supporting up to six 2.5″ drives
Fujifilm LTO-7 tape cartridge
Fujifilm Universal Cleaning cartridge
Two 1 meter Thunderbolt cables
Warranty
2-years
Posted in Data Storage | No Comments »