LTO Tape Growth Remains on Track in Volatile Environment
Posted on January 23rd, 2023
LTO Tape Market Long Term Forecasts
Based on current information, the 2022 tape native capacity is forecast to rise 14% to 79.30EB (Exabytes) slightly less than the 17% growth projected earlier in 2022. For 2023, capacity shipment growth is forecast to rise 13% as slowing growth from on-premises customers is offset partially by expected cloud increases, discussed in the next section. While LTO-9 was released one year ago, adoption of this latest 18TB (Terabytes) native capacity generation will accelerate in 2023, offering solid storage capacity density increases at reduced £/GB.
The long-term forecast for tape capacity is set to rise at a 21% Compound Annual Growth Rate (CAGR) from 2022 through 2027, reaching 207.15EB (Exabytes). Based on assumptions like other Trendfocus storage device forecasts, an economic recovery in 2024 will lift tape capacity growth by an expected 27%, above the long term CAGR as markets expand following slower spending expected in 2023.
Although IBM 3592 tape solutions have led native capacity compared to LTO product generations, LTO capacity shipments have historically represented between 81% and 85% of total tape capacity shipped.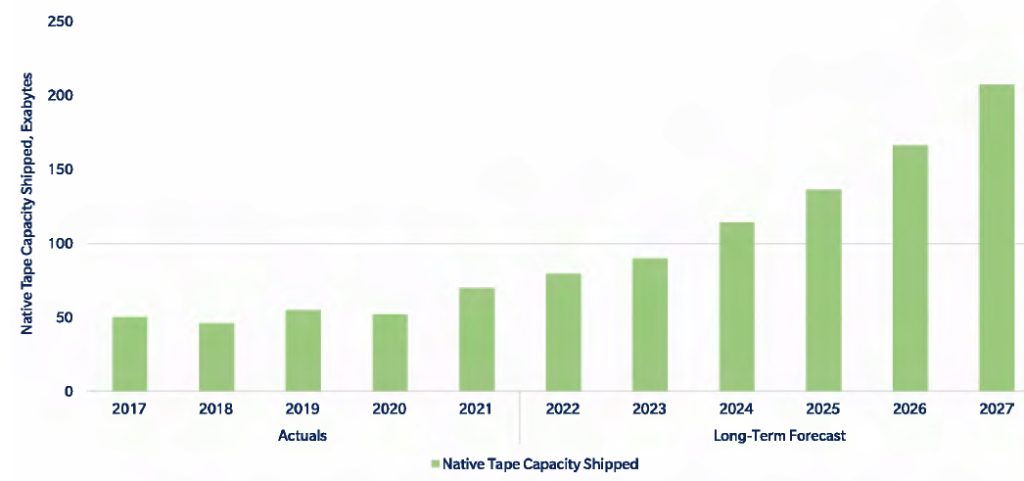 Tags: lto roadmap, lto tape, lto tape growth, lto-9 | Posted in LTO Tape Growth | No Comments »